Bible Study Guide & Lessons
Every week a New Outline
Get on our E-mail list and receive a new outline every week!!!!!
If you would like to use these studies for anything other than personal use, please contact us for permission.
Check in from time to time to print new lessons when they are changed.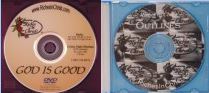 Order This CD ROM
Free With An Offering Of $15.00 CD 
The CD comes loaded with hundreds of studies in a PDF format.
You can open, view, search, and print these outlines.
Call Toll Free 1-888-739-6619 to order yours.